What Does a Periodontist in Alpharetta Do?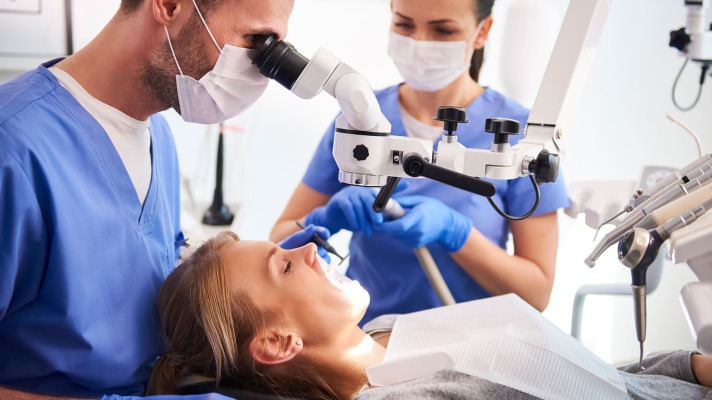 A periodontist is a dentist who specializes in repairing and treating the structural elements of your gums and jaw. These support structures are necessary to maintain the health of your teeth. Periodontists undergo advanced training to allow them to treat gum disease and to offer guidance on ways to prevent this serious dental condition.
What Types of Training Do Periodontists Receive?
The periodontists at North Point Periodontics have completed a four-year degree before beginning dental school, which lasts another four years. After receiving a degree in dentistry, your periodontist then completes a two-year course of study in the specialty field of periodontology. This ensures that you receive the best and most effective treatment options for periodontal diseases and conditions.
What Do Periodontists Do?
Dentists offer general services that may include examinations, fillings, and other dental procedures. A periodontist, by contrast, specializes in conditions of the gums and jaw. This allows your periodontist in Alpharetta to diagnose gum disease more accurately and quickly. Left untreated, gum disease can cause bleeding gums, loose teeth, and even the loss of permanent teeth. Working with a specialist is essential to preventing the serious complications of periodontal disease.
What Is Periodontal Disease?
Periodontal disease, also known as gum disease, is a condition that affects the health of the gums. Gingivitis is usually the first stage of this disease and causes symptoms that include redness and irritation of the gums. During this stage, gum disease can often be reversed if treatment is begun early enough.
In the later stages, gum disease can cause pockets of infection to develop under the gums and can weaken the connective structures inside. It can also cause the loss of bone density in the jaw, which can result in teeth becoming loose and even falling out. Gum disease is one of the primary reasons for the loss of permanent teeth in the Alpharetta area and around the world.
Services Offered by the Periodontists at North Point Periodontics
At North Point Periodontics, our team of dentists and periodontists provide high-quality services and procedures to keep your teeth and gums healthier. We take a holistic approach to your dental care, which allows us to provide a variety of options for treating gum disease and other conditions that could affect your long-term dental health. Some of the most important periodontal services we offer are listed here:
Identifying and diagnosing periodontal disease: One of the most important tasks performed by the periodontists at Alpharetta is to diagnose gum disease. When caught in the early stages, gum disease can sometimes be reversed to restore your gums to a healthy condition. Regular dental visits to our team at North Point Periodontics are the best way to ensure that periodontal issues are identified early and that they are treated effectively.
Treating gum disease: Our periodontists will create a customized treatment plan for you. Some of the procedures we may perform on your behalf include scaling, root planning and other surgical treatment options to remove pockets of infection and to restore your gums to a healthier state.
Placing dental implants: If you have lost teeth because of an accident or advanced gum disease, your dentist may recommend dental implants to replace the missing teeth. Dental implants can support a single tooth, a few missing teeth, or an entire denture. Your periodontist can apply implants to your gums that will allow you to fill in the gaps in your smile and that will provide a solid foundation for artificial teeth.
Reconstructing gum tissue: In some cases, gum tissue may have been lost because of periodontal disease or through an injury. Your periodontist can provide you with practical options for grafting tissue from other areas into your gums and allowing it to heal in place. This can restore the appearance of your gums and can provide added help in managing your overall dental health.
Regenerating bone in the jaw: One of the most serious issues caused by periodontal disease is the loss of bone density in the jaw. If you have bone loss because of an injury or gum disease, your periodontist at North Point Periodontics can provide you with regenerative services that can increase bone density and improve the health of your jaw. This can allow for the placement of implants into the bone and can restore greater stability for your jaw and the teeth that connect to it.
Treating many other oral health conditions: If you have receding gums or loose teeth, your periodontist can often provide added help in managing these issues and preserving the health of your gums. In some cases, your periodontist may offer help with jaw pain issues to ensure that your teeth and gums stay healthy.
If you need help with issues involving your jaw, the roots of your teeth, or your gums, working with a periodontist in Alpharetta is a good place to start in addressing these problems. At North Point Periodontics, we are proud to offer outstanding solutions for your dental care needs. We can provide periodontal care that will allow you to enjoy the healthiest teeth and gums in our area.
The Right Solutions for Your Dental Care Needs
If you need a new home for your dental care in Alpharetta, the dentists and periodontists at North Point Periodontics are here to help. We offer friendly and nonjudgmental care for you and every member of your family. If you need the right solutions for periodontal disease treatment, dental implants, or reconstruction of bone and gum tissue, our team is here to help when you need us most. Give our dental professionals a call today at (678) 951-8356 to schedule your appointment with our team. At North Point Periodontics, we are always here to help you show off the brightest smiles possible now and for a future of better dental health.